LED corn bulbs are much more efficient than Incandescent bulbs, compact fluorescent lamps (CFL) halogens, metal halide and HPS; Proving their efficiency in test after test, LED corn bulbs have certainly emerged as the cadillac of light bulbs. Using about 1/10 the power of an equivalent incandescent, these bulbs blow the competition away when it comes to efficiency and productivity.  Let's start with the basics…those unfamiliar with LED lighting and its subsequent terminology, may ask the question: what exactly is a corn bulb? Simply put, a corn bulb is so named because of its shape and appearance. Very much resembling an ear of corn, the bulb itself is shaped like a cob if you will. Fitting into standard incandescent receptacles, the LED corn bulbs are rated for a lifespan of more than 50,000 hours, this means that if used 8 hours every single day they will last more than 17 years.  Thus, replacing old subpar bulbs with the latest in LED lighting technology is just about the best thing you can do for your home or business.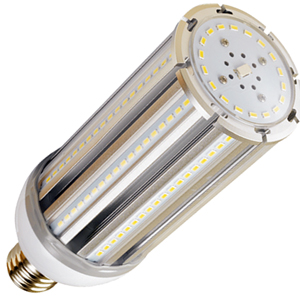 How do LED corn bulbs perform against CFL's and Halogens…
There really is no question of the supremacy of the LED corn bulb over both Halogens and CFL's. Utilizing only about half the power of the CFL bulb, the LED corn bulb proves its superior performance time and time again. Capable of replacing a metal halide and HPS of nearly five times the wattage, the corn bulb is ideal for areas requiring a great deal of light (since this is a general article is better to link to the category page http://ledradiant.com/led-lights/led-corn-bulb ). And when it comes to a comparison with halogen bulbs, the LED corn bulb is the clear winner, boasting an efficiency rating that is 6 times better than the halogens.
Is the LED corn bulb safe to use?
Just about anywhere…In fact, this particular bulb is often prized for its "green" properties. For one, unlike a number of other such products in the lighting industry, the corn bulb does not emit mercury or any other noxious gases for that matter. Safer for the environment = safer for you. Additionally, CFL's are infamous for the amount of heat that they generate and consequently give off. This can certainly cause damage and potentially, be dangerous. In comparison, LED corn bulbs emit almost no heat, creating a much safer and overall healthier atmosphere in the long run.
When it comes to lighting technology, the LED corn bulb leads the pack. Safer, more efficient and greener, these bulbs are certainly worth investing in.