---
Public Works: M
ACARTHUR BRIDGE
, DETROIT TO BELLE ISLE
---
The hanging bubbles using 175 Watt metal halide bulb were replaced with 27 Watt LED Corn bulb, the updated version
30 Watt Led Corn Bulb
and for the top 250 Watt metal halide bulb used in the acorns used a 45 Watt LED corn bulb, you can find an updated version in the
50 Watt LED corn bulb
. Savings are about 85% and the brightness increased
200%.
Belle Isle Bridge near Detroit Lighting Powered by Platinum Equity from Platinum Equity on Vimeo
Click to email this project link
---
Airports: SOUTHWEST FLORIDA INTERNATIONAL AIRPORT
---
---
Street Lights: CITY OF MARGATE
---
Replaced 1000 Watts HPS with
300W street light fixture
.
This will save the city of Margate 77% in electric costs and about $100.00 per year per fixture in maintenance and parts.
---
Car Dealers: HOLLYWOOD KIA
---
Replaced each one 1000 Watt Metal Halide at the top of pole and one 400 Watt Metal Halide at half the height of the pole with only one 265 Watt LED OMA series 5 years ago, today we have
300 Watt LED S8C series
(current version) at the top.
Counting the ballasts, about 20% waste, we went from 1680 Watts to 265 Watts saving 84% just in energy and thousands in maintenance. The dealership looks like a stadium. Outstanding.
In that sector alone they are saving over $24,000 per year with 194% more light and near zero maintenance for the next 15 years.
---
Car Dealers: AUTOLINE, LLC . HALLANDALE BEACH, FLORIDA
---
Replaced all 400 Watt Metal Halide with
100W LED 180° Semi Corn Bulb
(current version) on every shoebox, which are 23 ft high.
Savings are over 80% just in energy and thousands in annual maintenance. The dealership looks great as displayed in the images.
---
Hospitality: HAMPTON INN, HALLANDALE BEACH
---
A full lighting renovation took place at these incredible beach hotel. Halls PL's were replaced by LEDRadiant LED PL lamps, same as the sconces on the hallways. You can see them in detail HERE.
---
Courts: Coconut Creek Basketball Court
---
In the first photo we have replaced only the 6 lights that illuminate the basketball court. You can see the whole court is evenly illuminated and very bright.
From the partial photos, second and third, you can see in the back the illumination provided by the old lights 1000 watts. The old lights do not provide the same color nor the foot candle as the LED do.
Court fully illuminated with 6 300W LED from LEDRadiant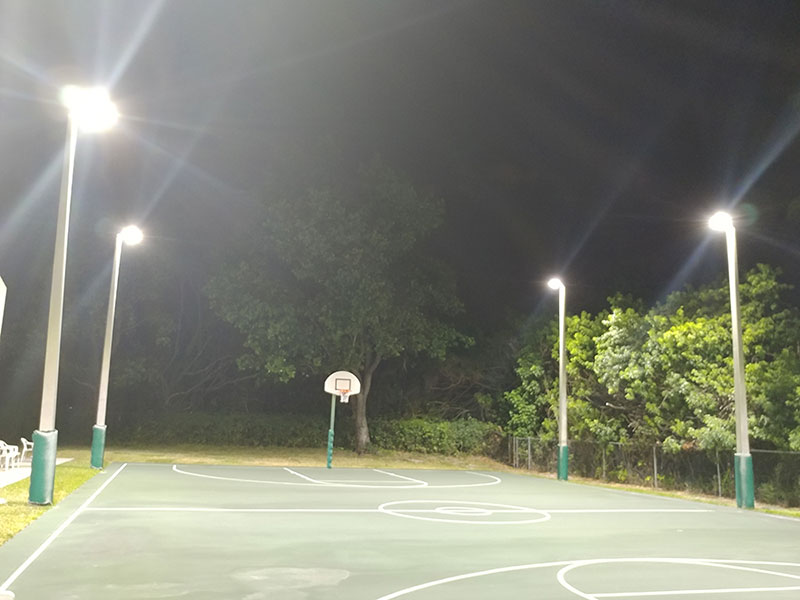 On the left and behind the 1000W Metal Halide. Facing the court the 300W LED from LEDRadiant
Behind the 1000W Metal Halide, not even close to the 300W LED from LEDRadiant
---
High Bay Led Lights: COVANTA INDIANAPOLIS
---